Gutter Replacement Made Easy in Lake Mary, FL
Gutters are necessary for virtually any home because they direct rainwater away, preventing water damage. If your gutters aren't doing their job, your home isn't adequately protected. At Gutters2Go, we offer top-of-the-line gutter replacement services that will stand the test of time in Lake Mary, Florida.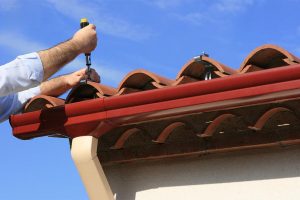 Our Seamless Gutters
All gutters may serve the same function, but they're not all created equal. Traditional sectional gutters are crafted with numerous seams that can become leaky and allow debris to collect. As a result, you'll have to drag the ladder out often to clean them. At Gutters2Go, our seamless gutters are custom fabricated on site to ensure a flawless fit and a 100% seamless profile. Additionally, they're built from heavy-duty aluminum that looks great and will handle whatever Mother Nature may throw their way.
The Local Gutter Experts
Gutters2Go is one of Central Florida's fastest-growing businesses, and we've designed and installed miles and miles of gutters. Not only are we gutter replacement experts, but we have a background in roofing and understand the importance of proper water management to prevent damage to your roof and other exterior features of your home. For your additional peace of mind, we offer a warranty for life.
We're Here for You
When it's time for a gutter replacement at your Lake Mary, FL, home, count on Gutters2Go to get the job done right. Not only do we offer exceptional seamless gutters, but our professional team can install them with the utmost precision and care. For more information or to request a free estimate, contact us today.