The Premier Gutter Protection System for Florida Homeowners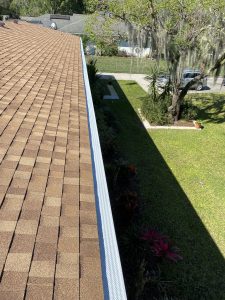 If clearing out clogs from your gutters is one of your least favorite chores, it's time to turn to the gutter protection experts at Gutters2Go for a solution that can take that task off your to-do list for good. Based in Longwood and serving homeowners across the Orlando area for years, we're a gutter company that's proud to offer best-in-class products that are built to last through even the worst of Florida weather. When you turn to us for a gutter protection installation at your home, you can rest assured you'll receive a top-quality product as well as outstanding service from start to finish.
All About Gutter Protection
When debris like leaves, dirt, twigs, and other airborne items get caught in your gutter system, they can quickly collect and form clogs. These clogs aren't just a nuisance to clear out—they can also lead to damage to your entire gutter system if not taken care of in a timely manner. A reliable gutter protection system is the best solution to this problem. Our gutter covers will stop debris from entering so that clogs are prevented from ever forming in the first place.
At Gutters2Go, we don't install just any gutter guards and call it a day. As a local gutter company that understands the challenges that Florida homeowners face, we install only premium gutter protection systems that are specially crafted for a reliable performance no matter the type of debris your gutters are likely to collect. Whether you're dealing with clogs made of pine needles, seedlings, sand, or another material, we have a gutter cover option to suit your specific needs.
"For Gutters That Flow, Get Gutters2Go"
Say goodbye to your days of climbing a ladder to clear out clogs from your gutters—turn to the gutter protection specialists at Gutters2Go. Contact us today to learn more about the gutter protection system we can install at your home in the greater Orlando, FL, area. As a full-service gutter contractor, we even offer gutter cleaning services that will have your gutters flowing again in no time.