A Leading Gutter Contractor Serving Orlando, FL & Surrounding Communities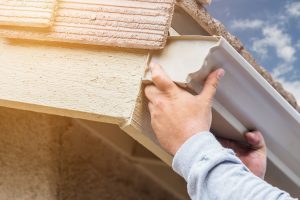 If the gutters at your home need some help, don't settle for a DIY solution or subpar service from one of the run-of-the-mill gutter contractors out there. Instead, turn to the company that's known for providing unbeatable quality and craftsmanship: Gutters2Go. Based in Longwood, Florida, we're a full-service gutter company that's dedicated to providing top-notch solutions that make the lives of our customers easier. Forget about searching through countless local gutter installation companies. Simply turn to us for reliable gutter services and solutions, including:
Seamless Gutters
Made from heavy-duty aluminum for outstanding performance, our seamless gutters are truly built to last through even the worst that Mother Nature has to offer. And while some gutter contractors use prefabricated rain gutter systems, we fabricate our seamless gutters on site for a flawless fit to the exact dimensions of your home.
Gutter Protection
Say goodbye to the chore of clearing out clogs from your gutters with one of our gutter protection systems installed. Gutter protection keeps debris like dirt, leaves, and twigs from entering your system, meaning clogs won't be able to form in the first place.
Gutter Cleaning
If your gutters just can't seem to stay clean, Gutters2Go is the gutter contractor to call for help. We offer specialized gutter cleaning services that will have your gutters flowing like they should again, all without you having to lift a finger.
Our Service Areas
We are proud to serve the following areas, as well as other communities in Seminole, Orange, and Volusia counties:
Turn to the Local Gutter Contractor You Can Trust
Whichever gutter-related services you need for your home, Gutters2Go is the company to trust for the job. Contact us today to learn more about our services available in communities throughout the Orlando, FL, area and schedule an in-home consultation.