Expert Gutter Services Available for Maitland, FL, Homeowners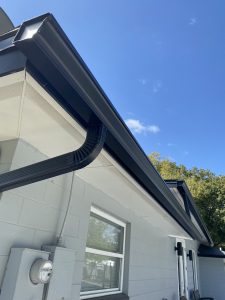 Whether you need a gutter cleaning or a complete gutter replacement, you can count on the highly trained and experienced team at Gutters2Go. We offer a variety of quality gutter services to homeowners in the Maitland, Florida, area, and we'd be happy to add you to our long list of satisfied customers. Our services include:
Seamless Gutter Installation
As a Floridian, you know all too well that it rains a lot. Unfortunately, all that rain can take a toll on your gutters and eventually cause damage to your home. But, thanks to seamless gutters from Gutters2Go, this damage can be prevented. Unlike traditional sectional rain gutters, which are crafted with numerous seams that can leak and allow debris to collect, our seamless gutters are custom fabricated to ensure a flawless fit and a 100% seamless profile.
A clogged gutter isn't just annoying to deal with, it can lead to damage if it's not taken care of in a timely manner. At Gutters2Go, we can install gutter guards that are specially crafted for reliable performance, no matter the type of debris your gutters collect.
Gutter Cleaning
If your gutters need a thorough cleaning, Gutters2Go can help with that! We can safely and effectively remove gutter clogs and clean your entire gutter system, as well as install new gutters or gutter protection systems to prevent future clogs from wreaking havoc on your home.
Let's Get Started
To learn more about why Gutters2Go is one of the most trusted gutter installation companies in the Maitland, FL, area, contact us today to schedule a no-obligation consultation.