Seamless Gutters That Lake Mary, FL, Homeowners Will Love
Florida is sunny a lot of the time, but Floridians know it can rain quite often. That's why it's important to have durable gutters installed at your Lake Mary home. At Gutters2Go, we offer seamless gutters that will look great and stand the test of time—no matter what Mother Nature may throw their way.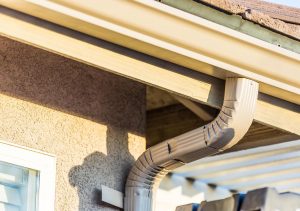 Quality Seamless Gutters
Gutters are designed to collect rainwater and carry it away from your home, protecting it from water damage. However, traditional sectional rain gutters are crafted with seams that can become leaky and allow debris to collect. Seamless gutters from Gutters2Go, on the other hand, are custom fabricated on site to ensure a perfect fit and a 100% seamless profile. Additional benefits of our gutter systems include:
Durability – Our seamless gutters are built from heavy-duty aluminum that will stand up to years of intense heat, high humidity, and heavy rainfall.
Reliability – The high-capacity design of our gutters ensures they will handle even the heaviest rainfall.
Ease of maintenance – Our seamless gutters are extremely easy to maintain—and if you pair your new gutters with our high-performance gutter guards, you can say goodbye to the days of climbing a ladder to scoop out debris yourself.
Style – All of our gutter products are attractive and will blend seamlessly with the style of your home.
Let's Get Started
If you're ready to enhance your Lake Mary, FL, home with top-of-the-line seamless gutters, contact the highly trained and experienced team at Gutters2Go today. You can even request a free estimate for service. We look forward to working with you and answering any questions you may have along the way.