Gutter Replacement Services Longwood, FL, Homeowners Will Love
If the gutters at your Longwood, Florida, home aren't as stylish or as functional as they used to be, it may be time for an upgrade. Fortunately, you don't have to look very far to find a reliable gutter replacement company in your community. Gutters2Go is a local, reputable full-service gutter company that offers ultra-durable seamless gutters that are stylish, functional, and built to last.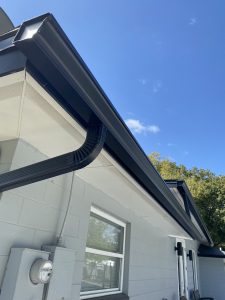 Our Top-of-the-Line Seamless Gutters
All gutters are designed to collect rainwater and carry it away from your home's roofline, preventing water damage in the process. However, not all gutter products are created equal. Traditional sectional rain gutters are prone to leaking and clogging, as they are crafted with numerous seams that present opportunities for problems to occur. That's why seamless gutters from Gutters2Go are the better option.
Our seamless gutters are custom fabricated on-site to ensure the perfect fit, and they are built using heavy-duty aluminum and corrosion-resistant materials. They are also much easier to maintain compared to traditional gutters, and they offer an attractive appearance that can enhance the curb appeal of your home. For additional protection, we even offer gutter covers that can prevent debris from entering your gutters.
Gutter Replacement Made Easy
When it's time for a gutter replacement at your Longwood, FL, home, count on the highly trained and experienced team at Gutters2Go to get the job done right. Not only do we offer exceptional seamless gutters, but our highly trained and experienced team can install them with the utmost precision and care. For more information or to request a free estimate, contact us today.