Aluminum Seamless Gutters for Your Sanford, FL, Home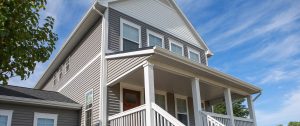 Rain gutters are an essential part of any home in Sanford, Florida. Due to the heavy rainstorms we experience in this area, we depend on reliable gutters to move rainwater away from our homes and prevent costly water damage. If your gutters are leaking or not redirecting water the way you think they should, then your home is at risk of mildew, mold, and worse things like damage to your foundation. So don't delay and get seamless gutters installed by Gutters2Go, the area's trusted gutter installer.
Regular Gutters vs. Seamless Gutters
Regular gutters are made with separate pieces that are connected together. When the separate pieces are assembled, seams appear between each piece that make the gutter more vulnerable to clogs, backups, and leaks. To eliminate these problems, Gutters2Go installs seamless gutters. We fabricate our seamless gutters on-site with one continuous piece to ensure they fit perfectly on your home. There are no seams involved so you have sleek, beautiful results that allow water to flow without issue. You'll also spend less time clearing out your gutters! Plus, our seamless rain gutters are fabricated with all-aluminum materials with a baked enamel finish for extra durability.
Gutter Replacement Experts
As one of Florida's fastest-growing companies, Gutters2Go has been proving itself as a reliable source for quality products and installations. You can trust our business knowing that it's owned and operated by a state-licensed builder who is knowledgeable when it comes to water management. With all that said, if you're not happy with your gutter installation at any time, then you can take advantage of our lifetime installation warranty.
Update Your Gutters
When you're ready to get seamless gutters for your Sanford, FL, home, contact Gutters2Go for professional installations. We also offer gutter protection products and services.